Course Overview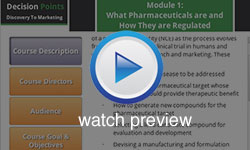 This introductory course focuses on the critical decisions made during a question-based label-driven approach to development of a pharmaceutical candidate from discovery through to product launch and marketing. The course highlights the decisions involved in the identification of a lead pharmaceutical candidate, conducting preclinical work to provide safety data to support the initial human clinical studies, establishing optimal therapeutic doses with an acceptable benefit-to-risk ratio, generating a label, and deciding to file an NDA or BLA. A key element of the module is a discussion of how the development of a pharmaceutical candidate is a stepwise approach of learning, confirming and affirming that together with the product label drives the pharmaceutical development process.
You should expect to spend approximately 6 hours of study time to complete the course.
Course Objectives
Who Should Attend
Minimum Computer Requirements
This web-based module requires a current browser version, such as Google Chrome, Internet Explorer, or Safari; Adobe Acrobat Reader and Flash plug-ins; and a reliable network connection.
PERI, Inc. is the sole owner of the information collected at various points on this site. We will not sell, share, or rent this information to others in ways different from what is disclosed in this statement.
Course Details
Online Course
2-Month Access
$450.00 Registration Fee
Ask a Question
Contact one of our course instructors to ask a specific question about the program.
Email Question
Our Students
1 "The big picture about drug development will help me to design good clinical trials."

2 "This information will allow me to bring these principles back to my day-to-day drug development plan."