Course Overview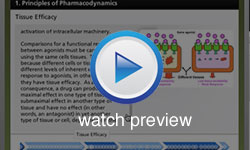 This course provides an intensive overview of pharmacology, knowledge of which is critical for both drug discovery and development. The principles of pharmacodynamics and pharmacokinetics are presented, followed by an introduction to the pharmacology of the autonomic nervous system, cardiovascular system, and central nervous system.
You should expect to spend approximately 15 hours of study time to complete the course.
NOTE: This course must be completed using the Google Chrome internet browser. Course functionality and design is not compatible with other browsers.
Course Objectives
Who Should Attend
Minimum Hardware Requirements
Windows 98/2000/NT/XP
Mac computer with an Intel processor
Pentium III processor at 500 MHz
128 MB RAM
Minimum Software Requirements
Students must complete this course using Google Chrome only.
Adobe Acrobat Reader and Flash plug-ins
PERI, Inc. is the sole owner of the information collected at various points on this site. We will not sell, share, or rent this information to others in ways different from what is disclosed in this statement.
Course Details
Online Course
4-Month Access
$615.00 Registration Fee
Ask a Question
Contact one of our course instructors to ask a specific question about the program.
Email Question
Our Students
1 "This course helps me speak to and understand concerns of R&D colleagues."

2 "I have gained a much more in depth knowledge of the premarketing side to clinical
development."