Course Overview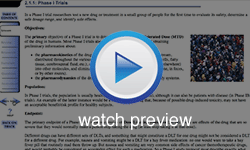 This course reviews statistical terminology, provide an understanding of statistics, and explain trial design from a clinician's viewpoint. Most importantly, the course will illustrate how statistical tests are chosen and interpreted. The course is designed to allow you to think like a statistician, but it is not designed to teach you to be a statistician. The course will emphasize the importance of an ongoing collaboration with a statistician. It is this collaboration that creates synergy, enhances creativity, and improves trial design, execution, and analysis.
You should expect to spend approximately 12 hours of study time to complete the course.
Course Objectives
Who Should Attend
Download Course Outline/Overview
Minimum Hardware Requirements
Windows 98/2000/NT/XP
Mac computer with an Intel processor
Pentium III processor at 500 MHz
128 MB RAM
Minimum Software Requirements
Web browser such as Google Chrome, Internet Explorer 6+, Safari
Adobe Acrobat Reader and Flash plug-ins
Access to the Internet with any connection 56K or above
PERI, Inc. is the sole owner of the information collected at various points on this site. We will not sell, share, or rent this information to others in ways different from what is disclosed in this statement.
Course Details
Online Course
4-Month Access
$645.00 Registration Fee
Ask a Question
Contact one of our course instructors to ask a specific question about the program.
Email Question
Our Students
1 "I have heard many of these terms before, but this course brought it all together."

2 "I have a better understanding of what my colleagues do and expect more effective communication based on an understanding of the whole process."